Fluffy funfetti cake topped with creamy white chocolate buttercream and finished with rainbow sprinkles and a frosted animal cookie.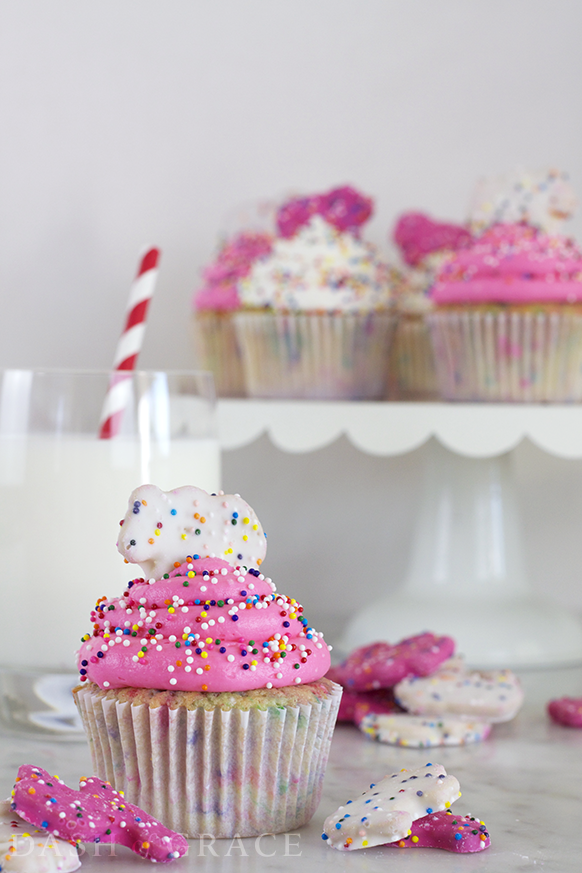 Come one, come all!
To see (and to taste) the greatest cupcakes on earth!
Seriously you guys, I'm obsessed. Obsessed with frosted animal cookies. Arguably the most addictive treat of all time, these cookies have an air of nostalgia that makes my heart (and my tummy) filled with happiness.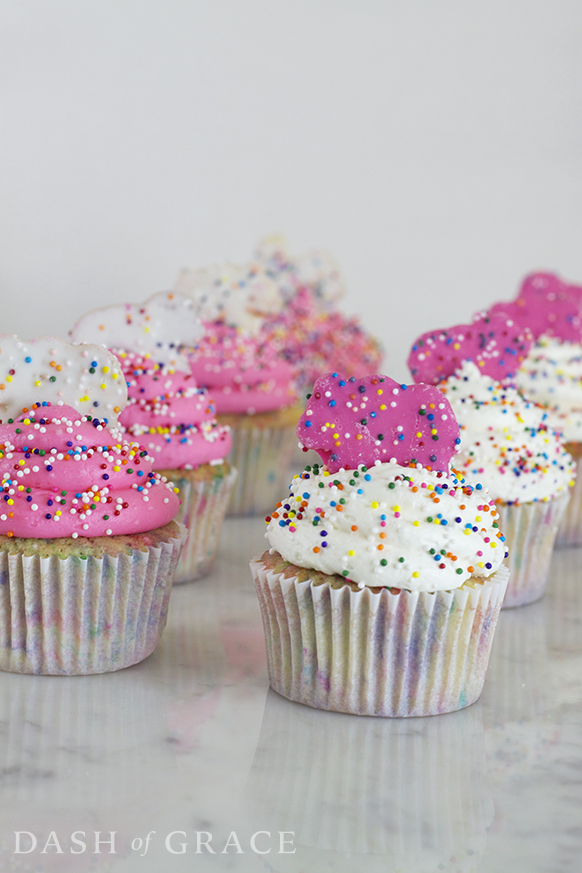 What do I love about them? Everything, absolutely everything. From the amazing flavor and the bubblegum pink icing to the crunchy rainbow sprinkles, it doesn't get any better.
Well…
There is one thing that could make this beloved bite size delight even better. Serving it in cupcake form!
Epic.
When creating this recipe, I wanted to replicate the flavor of the beloved cookies as much as possible.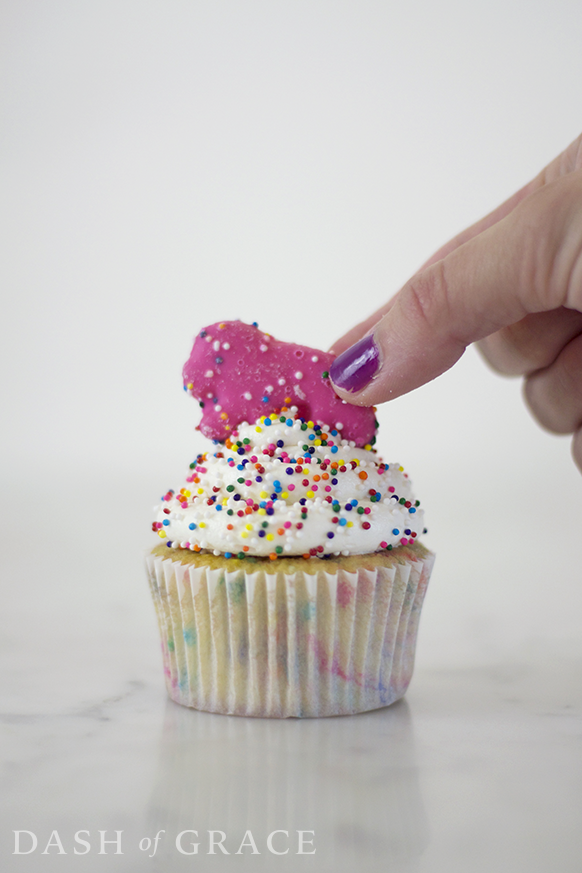 I started with a delicious birthday cake batter and loaded it to the max with festive rainbow sprinkles! (Be sure to use nonpareil sprinkles as opposed to "Jimmies" which are traditionally used in funfetti cakes.) Why? To match the cookie topper of course!
The key to fluffy cupcakes is to incorporate air into the batter! The air bubbles will expand during baking, giving the cupcakes a perfect texture. The first step to getting air into the batter is to cream your butter and sugar. So don't skip this step and be sure to allow ample time for the mixture to become light and fluffy!
During the remainder of the process be sure not to over mix the batter. Only mix until the ingredients are just incorporated (no more, no less). This too will ensure the cupcakes turn out fluffy.
Once the batter is nice and creamy it's time to add those glorious sprinkles! ! Quickly and gently fold in the sprinkles so the color doesn't run into the batter too much.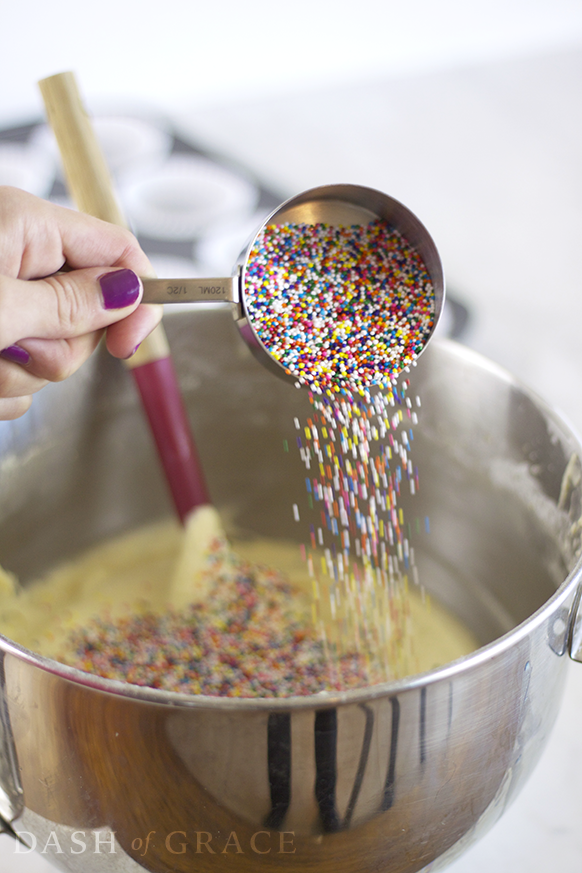 Now it's time to fill the tin! When filling the cupcake liners, be careful not to pour in too much batter. Over filling will cause the batter to spill over the edge of the cupcakes and spread across the pan (not a pretty sight).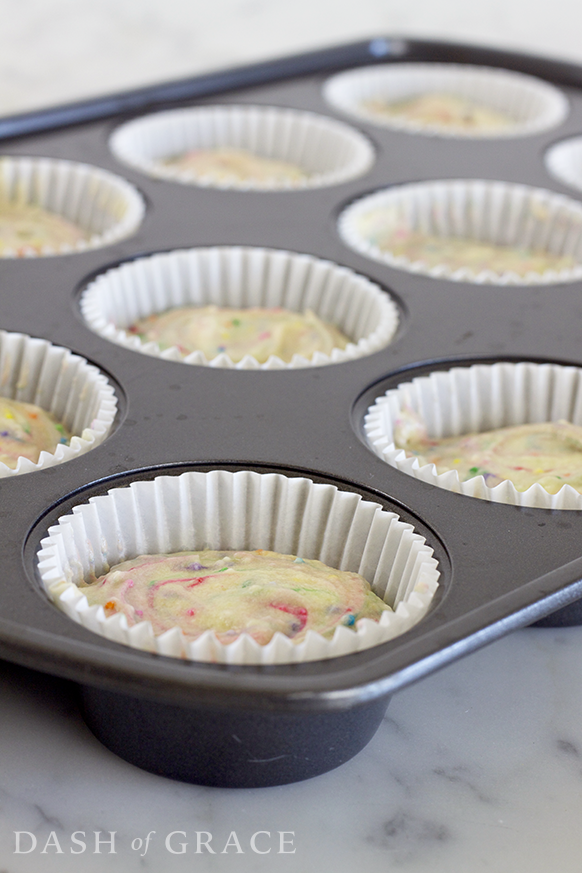 Next, bake the cupcakes until the tops are a lovely golden brown and a toothpick inserted into the center comes out clean. Caution: Over baking will lead to dry cupcakes so watch closely.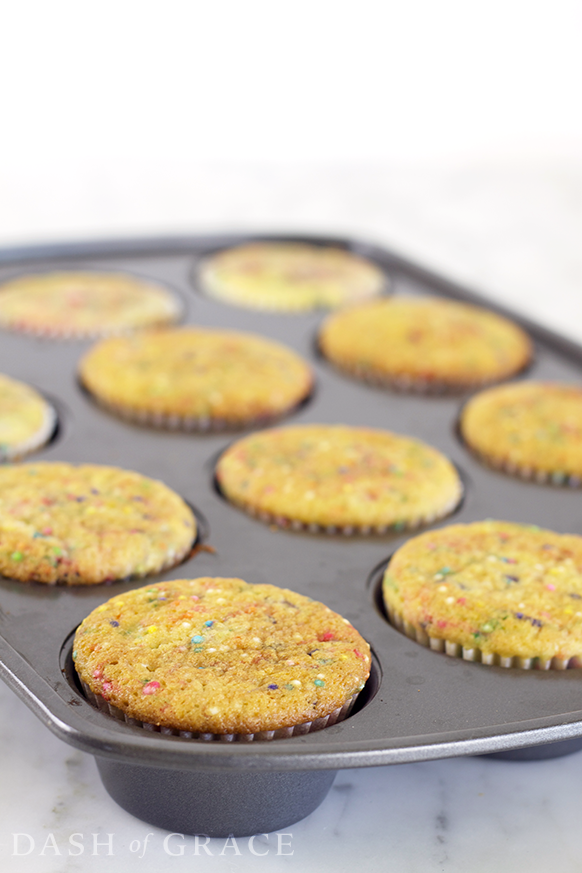 Once the cupcakes have cooled it is time to decorate!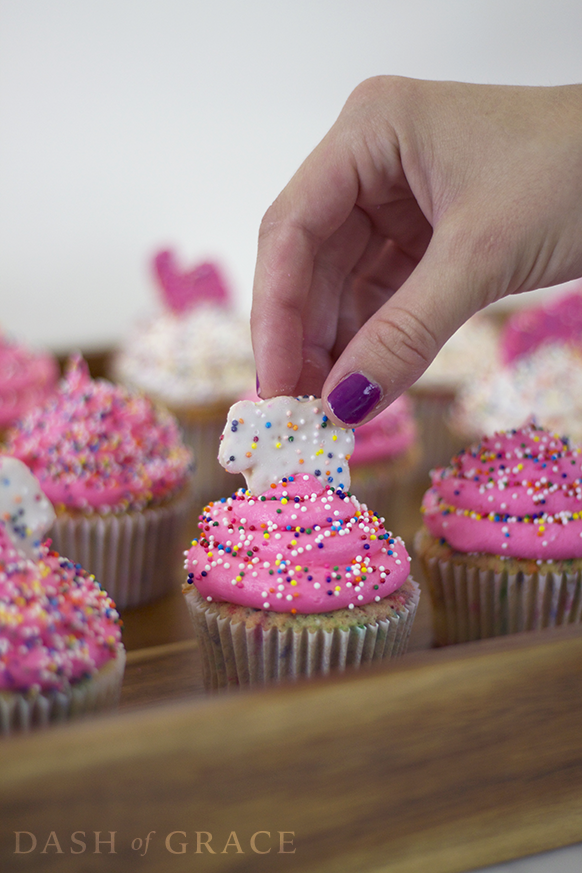 After whipping up the white chocolate frosting divide it into two bowls. Use pink or red food coloring to make half of the frosting pink. (I kept adding dye until the frosting was as close to the color of the animal cookies as possible.)
Pipe a generous amount of frosting onto each cupcake, sprinkles with the nonpareils, and top with your favorite circus animal cookie (Mine are the camel whatever is in photo of single cupcake).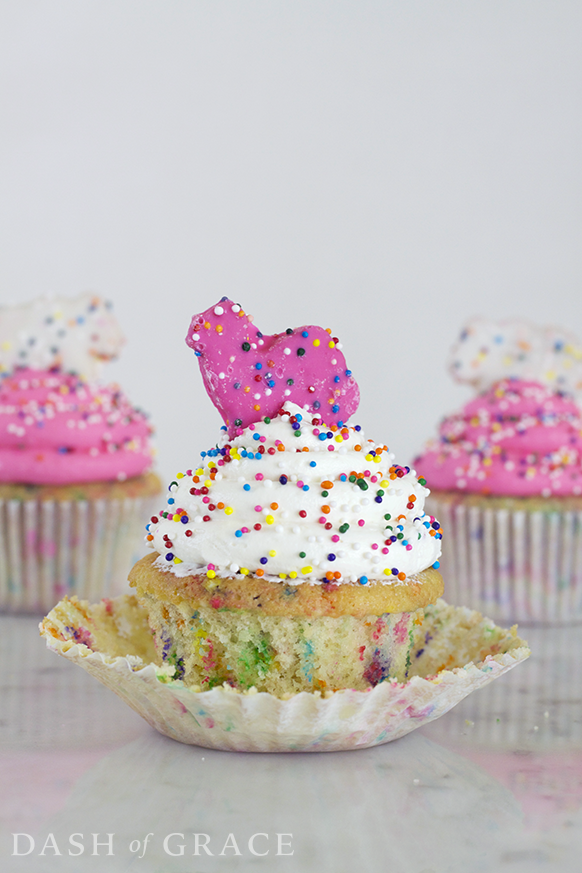 Adorable, delectable, and fun for all ages, these cupcakes are a surefire crowd-pleaser.
Lastly, making these cupcakes will allow you to perform a famous circus favorite: The Vanishing Act.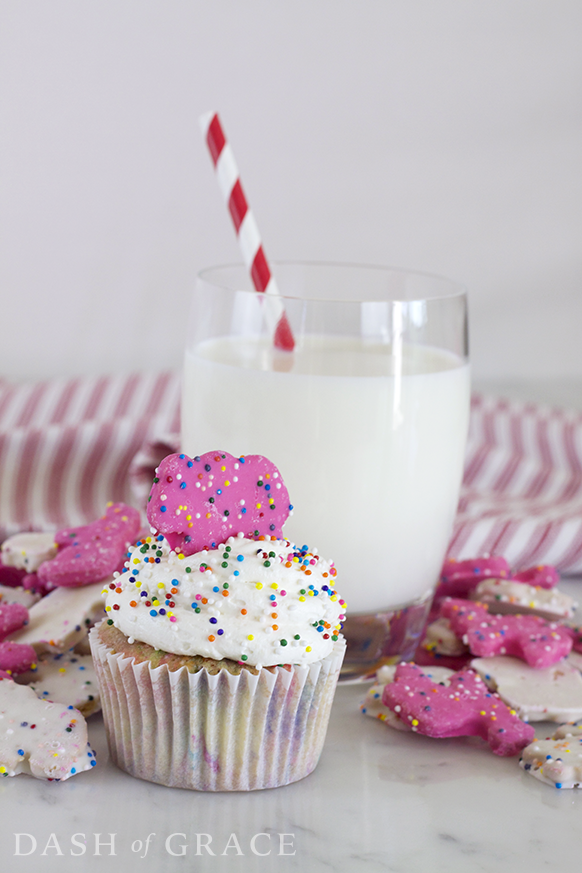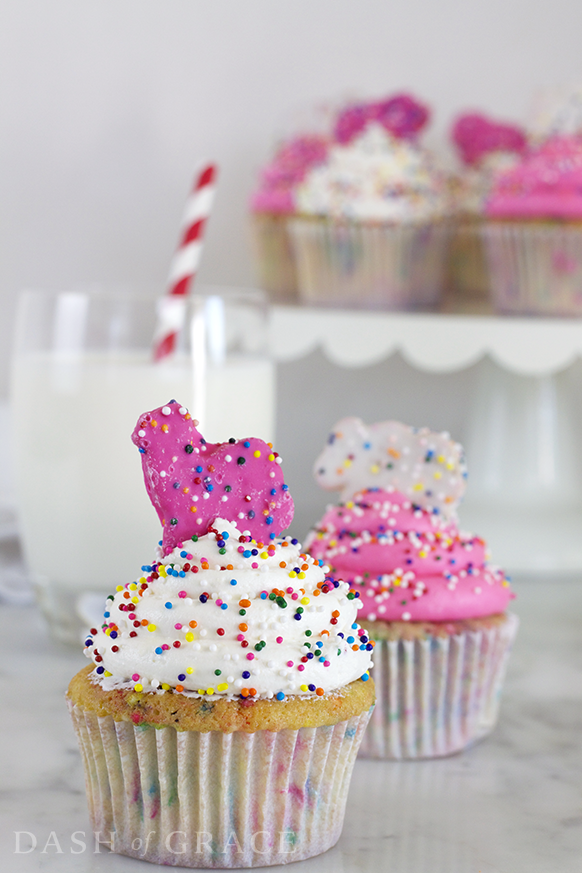 Cupcakes
*Yields: 24 cupcakes
1 cup milk
1 tablespoon white vinegar
2 2/3 cups (332.5 g) all-purpose flour
3/4 teaspoon salt
2 teaspoons baking powder
1/4 teaspoon baking soda
1 cup unsalted butter, at room temperature
1 3/4 cups (350 g) granulated sugar
3 eggs, at room temperature
2 egg yolks, at room temperature
1 tablespoon vanilla extract
1/4 cup sour cream
1/2 cup nonpareil rainbow sprinkles
Directions
1. Preheat oven to 350 degrees.
2. In a small bowl, whisk together milk and vinegar. Let stand for 10 minutes (milk will start to curdle).
3. In a stand mixer fitted with the paddle attachment, cream butter for 1 minute. Add sugar and beat for an additional 3 minutes, until light and fluffy.
4. In a small bowl, whisk together eggs, egg yolks, vanilla, and sour cream. Pour into the butter-sugar mixture and mix until combined.
5. In a medium bowl, sift together flour, salt, baking powder, and baking soda.
6. Add half of the flour mixture to the wet ingredients and mix until incorporated. Then add half of the milk and mix. Continue alternating until all of the flour and milk have been combined.
7. Gently fold in sprinkles.
8. Pour batter into prepared muffin tins. Fill slightly less than 2/3 of the way full.
9. Bake for 14-16 minutes. Let cool in pan for a few minutes before transferring to wire wrack to cool completely.
Frosting
12 ounces white chocolate (not chips!)
1 1/2 cups unsalted butter, at room temperature
4 cups powdered sugar, sifted
1 tablespoon vanilla extract
1/4 teaspoon salt
1/2 cup heavy cream*
Pink food coloring
Toppings
Nonpareil rainbow sprinkles
24 frosted animal cookies
1. Melt white chocolate and let return to room temperature.
2. In the bowl of a stand mixer fitted with paddle attachment, cream butter for 1 minute. Add sifted powdered sugar and beat until light and fluffy (2-3 minutes).
3. Add cooled white chocolate and mix until combined. Add vanilla and salt, beating until incorporated.
4. Slowly add heavy cream until desired consistency is reached (*you may not use it all).
5. Add pink food coloring to half of the frosting, mixing until uniform in color.
6. Frost the cupcakes and top with nonpareil sprinkles and a frosted animal cookie.