The first birthday… for many it's akin to a mini wedding. I didn't go as far as that (although we did have nearly as many guests), but I definitely wanted our girl's first party to be classy and special while still reflecting the "funness" of being a child. The whole swan theme kind of just came to me, although I did see various swan-related things floating around on Instagram; so I thought it would be pretty easy to find decor. What I didn't realize was that these were being shown on Australian blogs and that finding swan things here was going to be virtually impossible. So I could either pay a ridiculous amount for shipping or get creative. I chose the latter.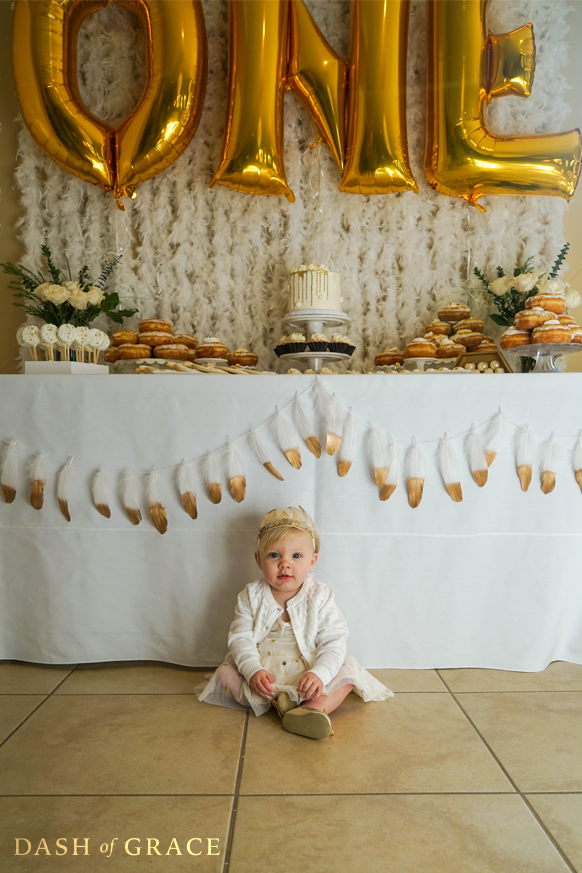 Anyways regardless of what country you live in, if you want to throw a swan-themed party here's how:
My advice is to keep it simple and classy- like a swan! I chose not to add any colors but rather to stick with white and gold (colors of a swan). I wanted the party to have an airy, dreamy, magical vibe, so I incorporated gold stars via the most fabulous plates and cups by Meri Meri.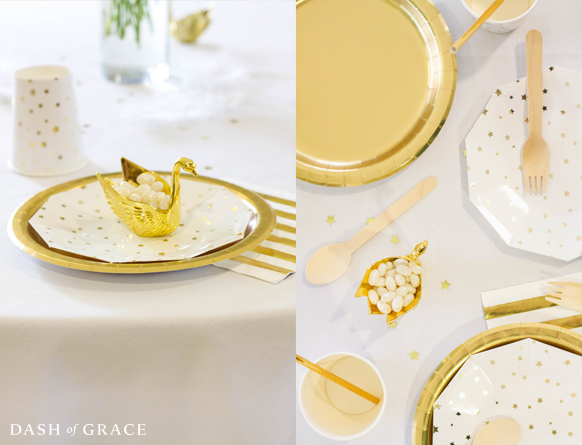 I kept the macro decor super minimalistic. White drape table cloths coupled with exquisite metallic gold chairs were a match made in Heaven. If you are local, I got these pieces from All About Events and they were what brought the whole look together. The chairs were one of my favorite parts about the whole party. Somehow they manage to come off as elegant, unique, playful, and timeless all at once. Where were these when I got married? So if you need some really cool chairs, and are in our neck of the woods, look no further than All About Events!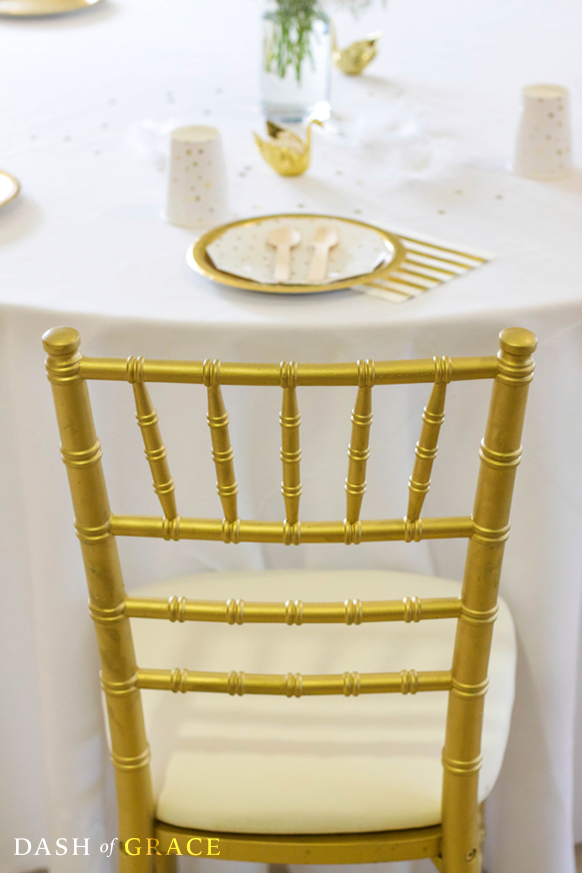 The DIY 6-foot boa statement backdrop was as easy as 1-2-3. I glued boas over wooden dowels, then hung the dowels using Command strips. And when I say *I* we all know I mean I made my husband do this. But hey, it saved a lot of money as opposed to buying a backdrop so he was all for it. I used 30 boas and 2 dowels. I moved one of the sections behind her high chair during the cake smash so that killed two birds with one stone (a morbid saying to use in lieu of the theme)!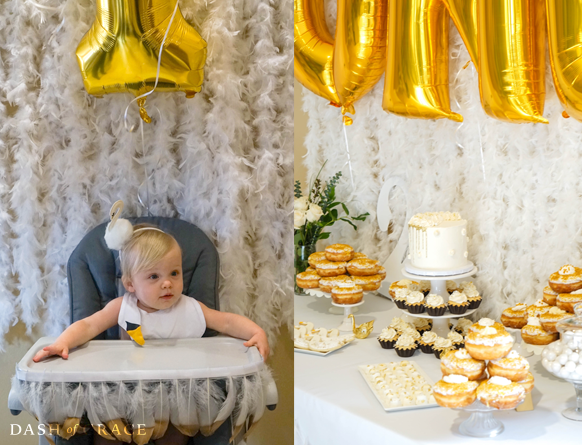 I made the feather garland by simply spray painting the tips of goose feathers gold and gluing them onto white twine. I strung two across the food tables and a miniature one in front of her highchair.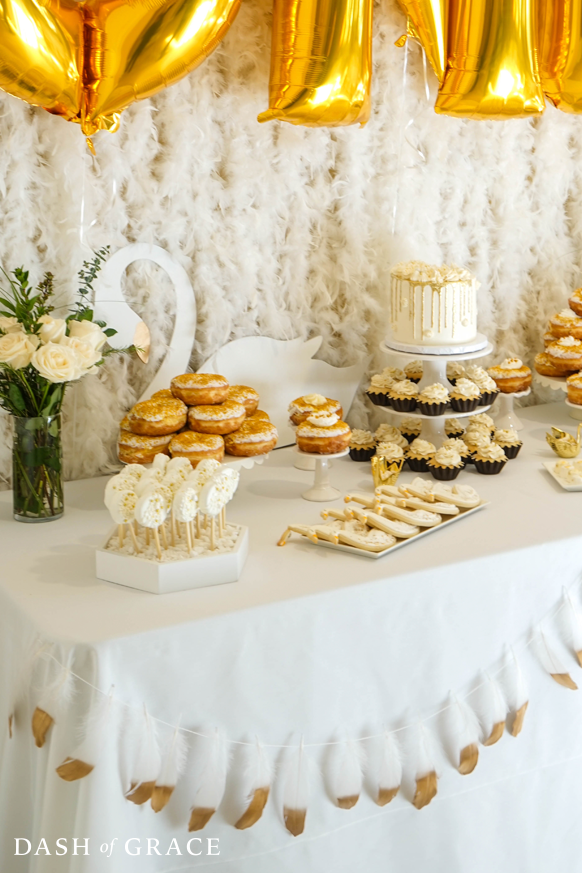 Now onto those mouthwatering baked goods. After much debating, I decided not to do the baking for my daughter's party. Being the control freak that I am, this was a very difficult thing for me to do. But, I wanted to be able to relax and enjoy the day. I did make the Oreo pops and chocolate gems. Then I left the rest up to some other fabulous bakers.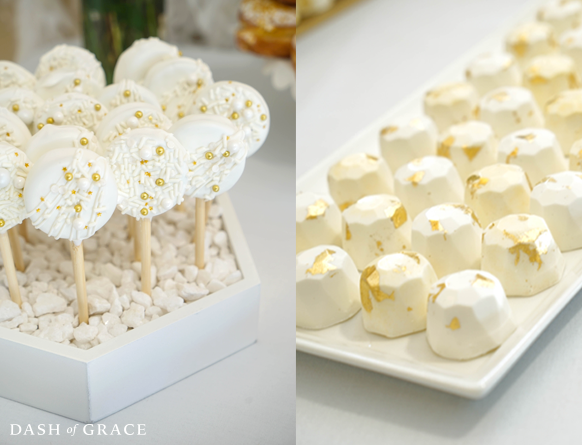 The gorgeous smash cake, cupcakes, and swan sugar cookies were made by Just Baked SLO using a custom sprinkle mix by Neon Yolk Shop. Libby of Just Baked truly made my vision come to fruition and I couldn't be any happier with how everything came out! Quinn definitely had the most beautiful smash cake in the history of first birthdays… I mean it was prettier than my wedding cake (for reals). And I'm still dying over those swan sugar cookies. They are literally the best rendition of swan cookies I have seen ANYWHERE, and I did a lot of "pinteresting" before this party. The cupcakes were simple, delicate, and perfect (I saw multiple people grab more than one). And in case you are wondering, it all tasted as good as it looked (as impossible as that sounds).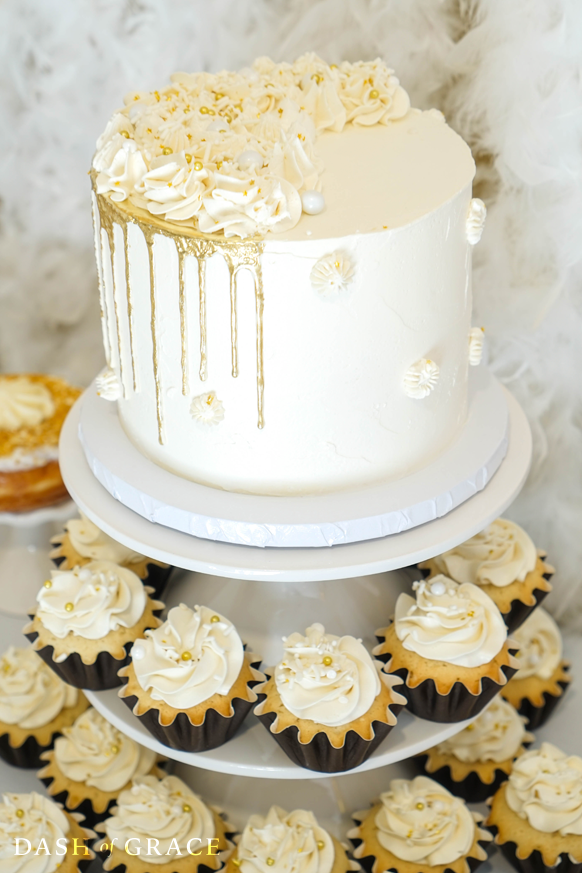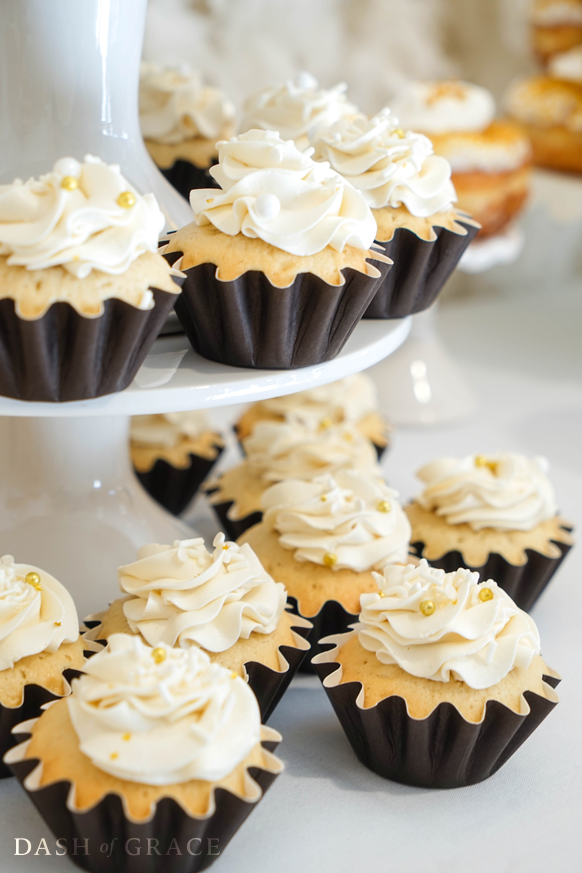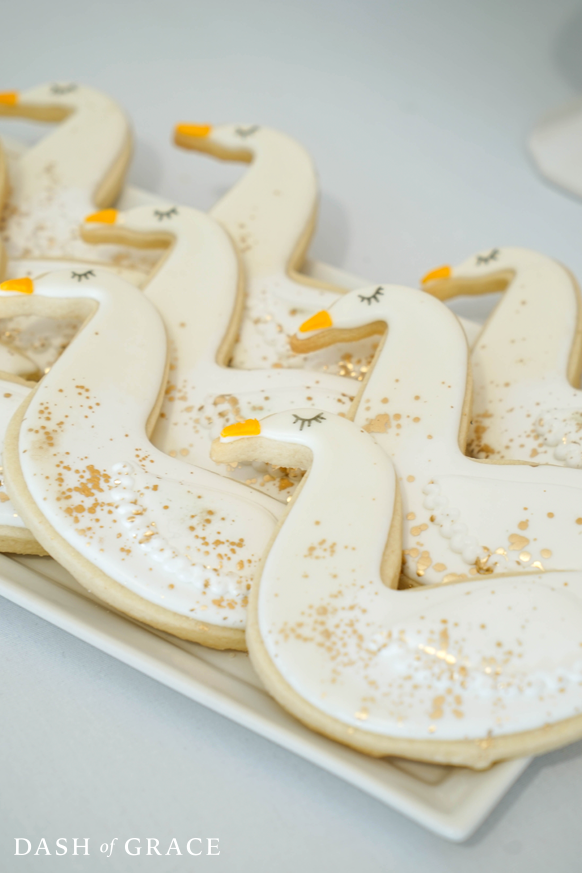 The icing on the cake was the custom sprinkle mix I received from Neon Yolk Shop. Our mix was mostly white, accented with a dash of gold and the most adorable teeny gold stars. I'm a big believer that the details are what truly set something apart. These sprinkle mixes are unbelievable and can be tailored precisely for your occasion. It doesn't get any more special than that folks! I want every single mix she has…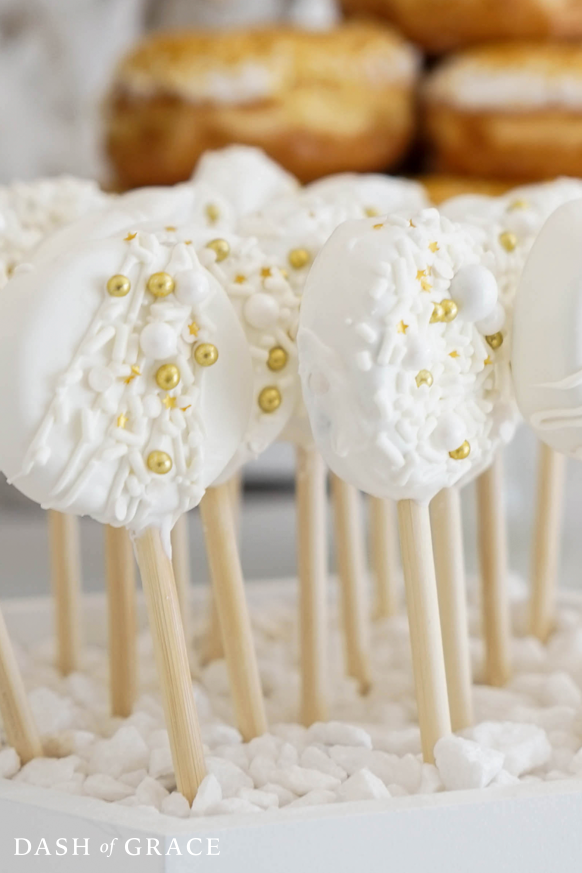 Donuts are a staple for all my parties, because duh. They look extremely cute piled on cake stands and make for an easy hands-free treat. We recently got a new local donut shop called Twisted & Glazed and I couldn't be any more excited! Finally someone to do custom donuts! As stunning as these gold, glittered pastries were, what blew me away was the flavor and texture. They were so so so good. To be completely honest, I may or may not have eaten one in the bubble bath to wind down after the party was over. Okay, that totally happened and I don't regret it one bit.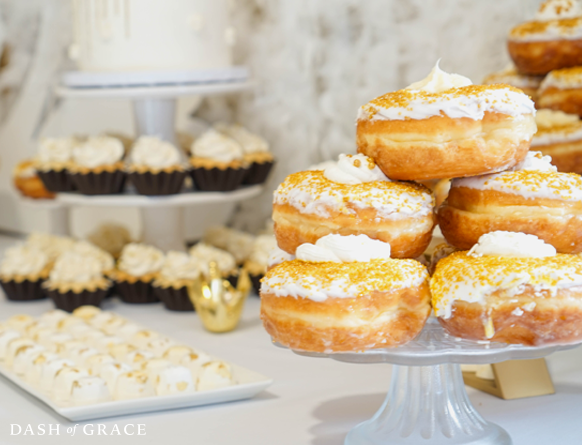 Quinn had an outfit change mid-party, in true princess fashion (okay, okay, it was because I didn't want her Stella McCartney dress to get ruined during the cake smash! You can find her outfit details at the end of the post)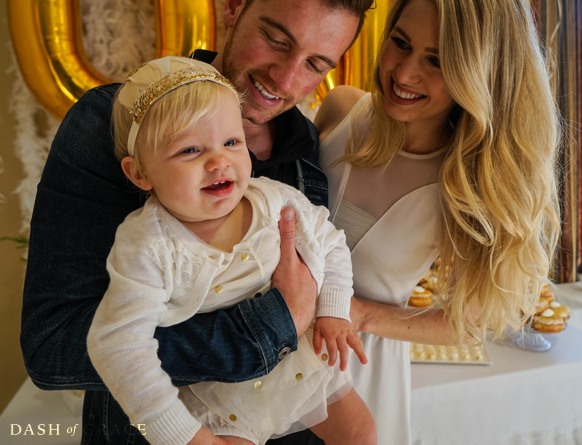 I was a bit obsessed with the party favors we found. For the girls we did swan headbands and for the boys, gold crowns. We also gave all the kids bubbles which I tucked a feather into (super easy way to incorporate the theme).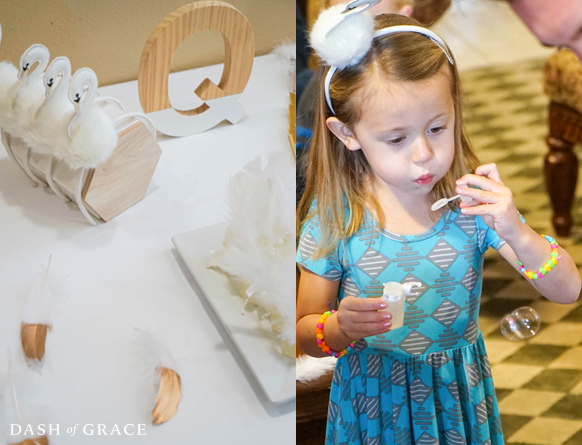 And are the photos from my daughter's monthly picture wall I had on display. Not swan related, but she is just too cute and I put way too much effort into getting these photos each month. My husband is so happy we don't have to do them anymore!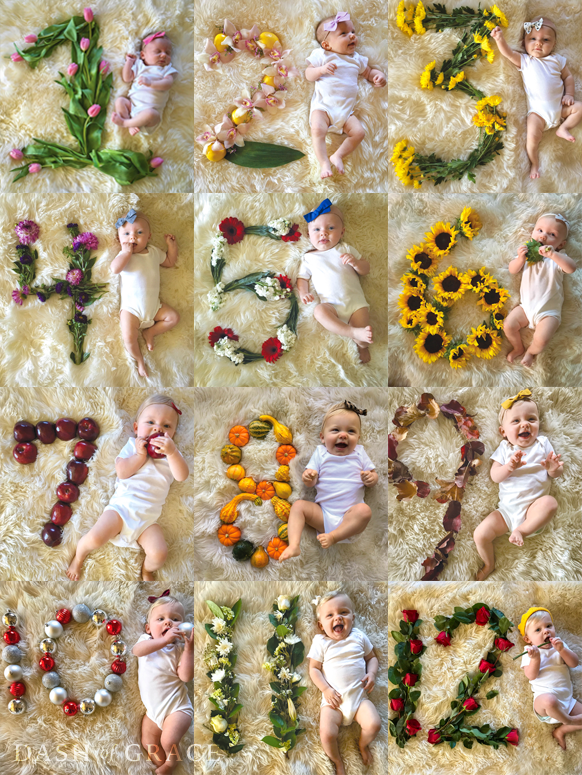 So now you have all the tools you need to throw a swan party. This theme would also work wonderfully for a bridal shower, baby shower, or even a wedding! After all, it doesn't get much classier than a swan.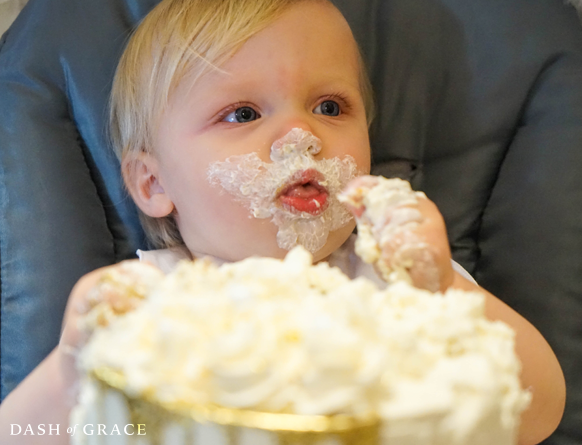 Details:
Table cloths & chairs: All About Events
Cake, cupcakes, & swan sugar cookies: Just Baked SLO
Custom sprinkle mix: Neon Yolk Shop
Donuts: Twisted & Glazed
Star plates & cups: Meri Meri Party (Plates / Cups)
Gold foil plates, straws, and striped napkins: Target (Plates / straws / napkins )
Wooden flatware: Amazon
Star confetti: Amazon
Feathers for garland: Amazon
Feathers on tables: Amazon
Wooden swan: Amazon
Vases: Dollar Tree
Large white balloons & Confetti balloons: Amazon
Foil balloons: Party City
Cake stands and Displays: Target & World Market
Swan bib and swan pom headbands: H&M *Note: the swan headbands are no longer available, but they have these super cute crown ones
Bubble favors: Amazon Note: I tucked a feather into the ribbon bow
Gold mini crowns: Amazon
Gold swan candy dishes: Ebay
Quinn's outfit:
Dress: Stella McCartney Kids
Cardigan: Cat & Jack
Feather crown: Tutu du Monde
Bib & Tutu: H&M
Shoes: Old Navy