This recipe has been in the works for some time. I have tested chocolate cake recipes until the cows came home and finally created the most delicious, decadent, tender cake. Literally, this is the moistest cake I've ever eaten.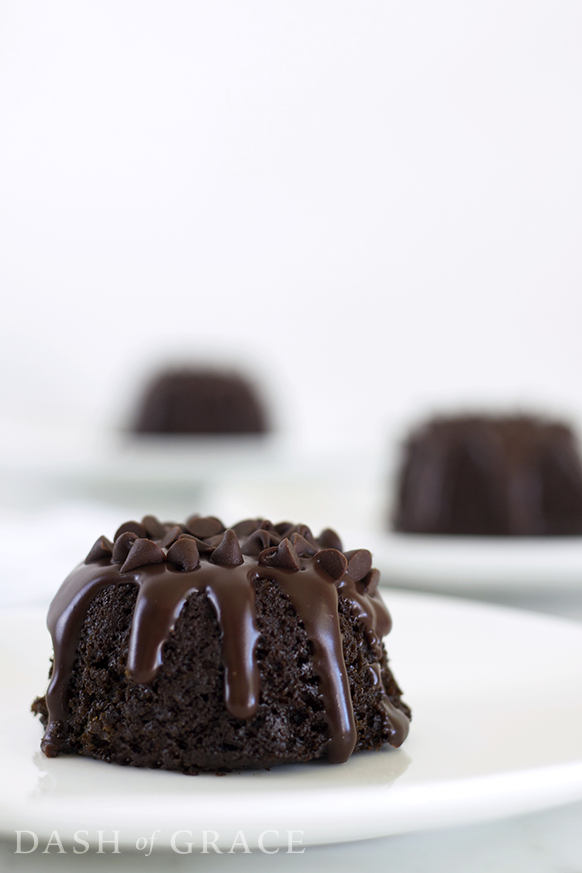 When it comes to chocolate I figure go big or go home right? Because can something really be too chocolatey? Is there even such a thing? Hence, these mini cakes aren't just chocolate, or even double chocolate, they're triple chocolate.
Look at that mouth-watering, creamy chocolate ganache gushing over those beautiful, delicate, chocolate cakes sprinkled with those adorable, tiny chocolate morsels.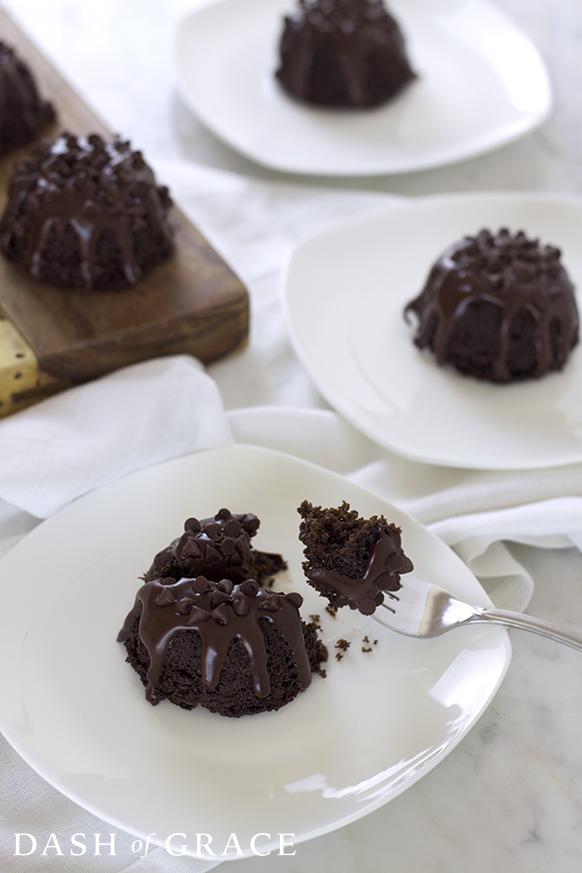 Seriously, what's not to love?
This last week has been quite chaotic for me. Unpredictability seems to loom around every corner, in the most daunting way. Yet in the midst of all of it, I have chosen to be still.
When I say that I'm being still, I'm not talking about in the literal sense, but rather on an an emotional level. For me stillness is taking time to be present.
Stillness is something that is very difficult for someone of my personality type to accomplish. It is not natural, relaxing actually requires a great deal of effort; oh the irony!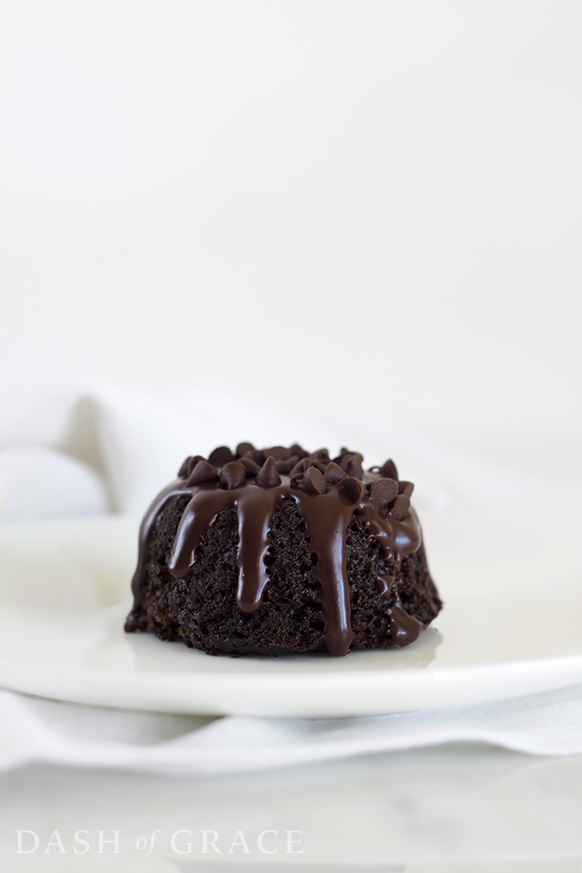 I have to take time to relax and find solace. Even though I had a million and one things on my to do list, I set aside time to bake (something I find incredibly therapeutic). Not just to be in the kitchen, whipping out something that I can post online to check my blog off my list; I forced myself not to rush, but rather to savor every sweet moment of it. From stirring to decorating, I took my time. And I think it showed in the end result.
I find that when I make baking a mode of relaxation, I produce some of my best work.
These chocolate cakes are proof of just that.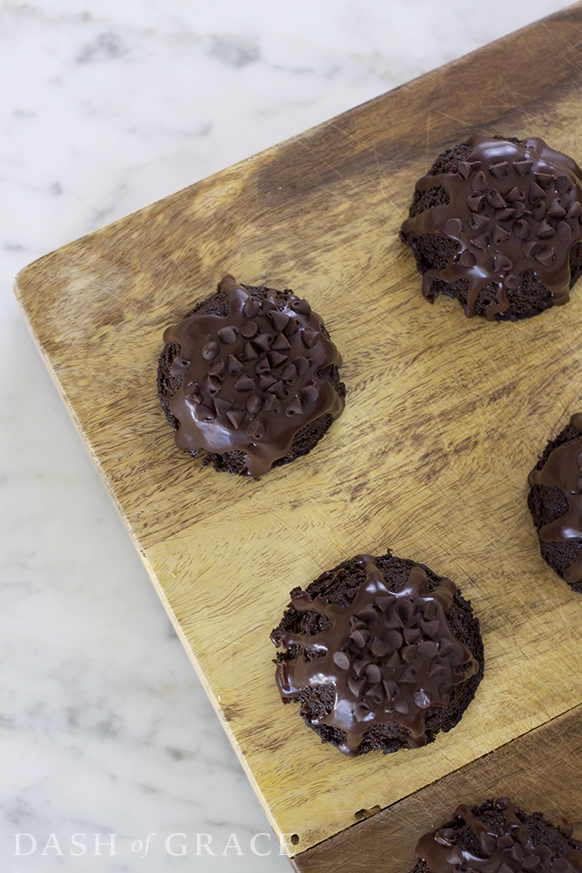 What is unique about this cake is the use of hot coffee. Traditionally, chocolate cakes use boiling water to activate the cocoa, causing the flavor to "bloom". Instead, I chose to use hot coffee. Coffee compliments the flavor of cocoa, thus using hot coffee doubly enhanced the chocolate flavor!
Again these cakes are incredibly moist, the type of cake that melts in your mouth. After baking, the bottom of the cakes will be sticky. This is a good thing! This means that the moisture is being trapped within the cake!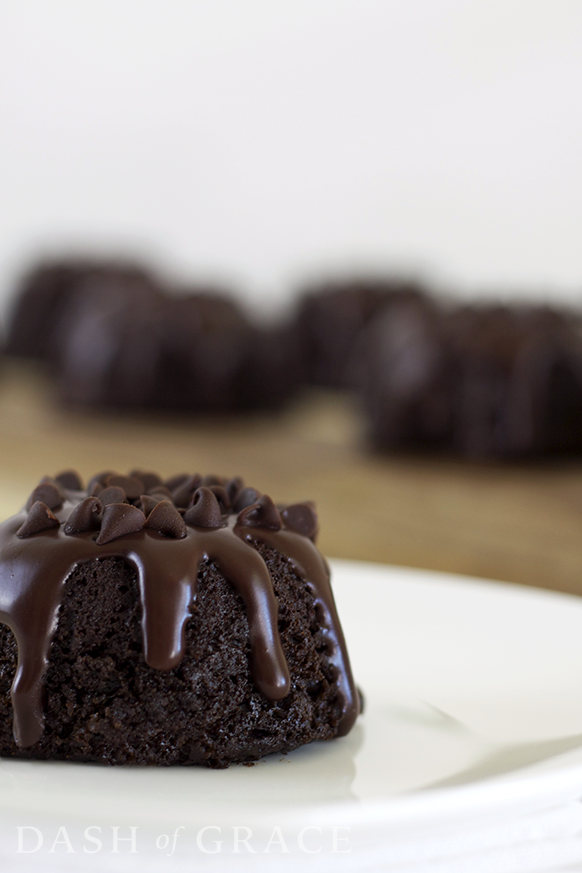 Part one of mission chocolatey goodness complete!
Now it is time to generously pour on that chocolate ganache. I found using a creamer pourer the best method of doing so. I poured the ganache over the top of the cakes until slightly overflowing, allowing the glaze to flow down the sides.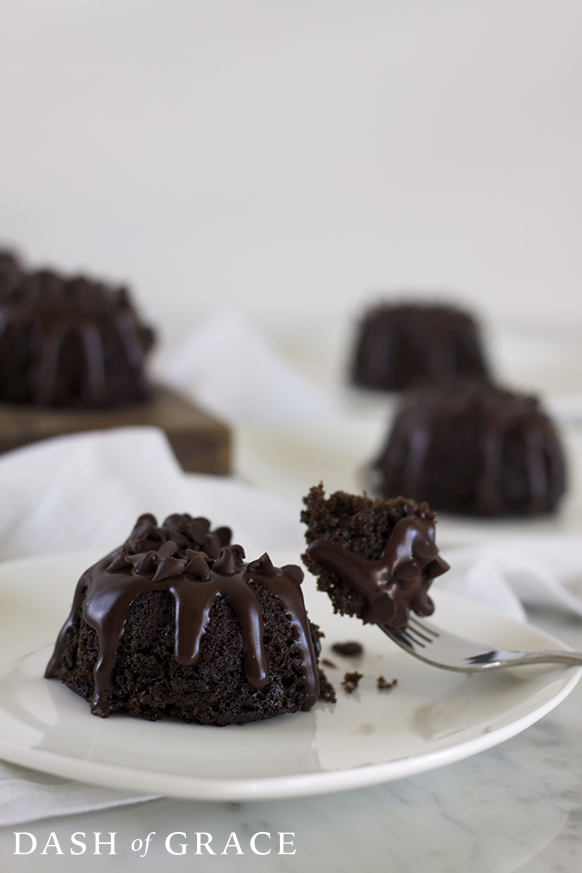 Part two of mission chocolatey goodness complete!
After letting the ganache set for a minute or two, I sprinkled a dash of miniature chocolate chips over each of the cakes.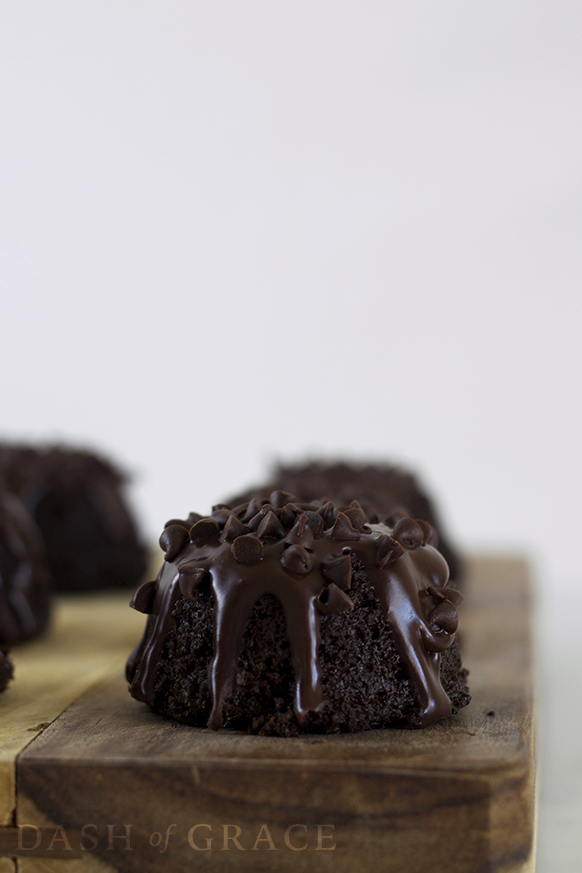 Part three of mission chocolatey goodness complete!
These mini bundt cakes are so incredibly decadent and delicious. The perfect fix for chocoholics everywhere.
I am so proud of this recipe. I truly poured a lot of energy and love into it. I challenge you to do the same. To set aside time this week to make this recipe. Don't rush yourself. Enjoy the process.
If you take the time to do this, I guarantee you will enjoy the end result as well. After all, chocolate is always a good idea.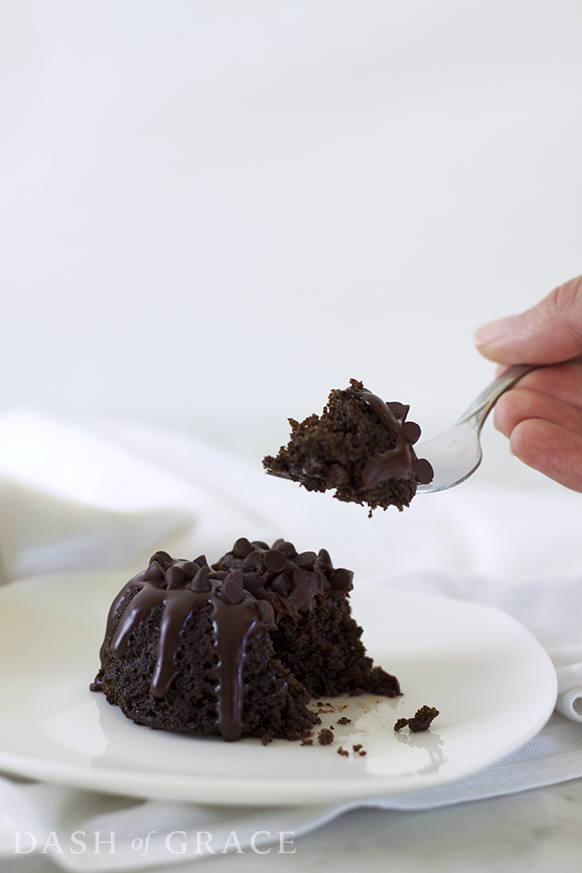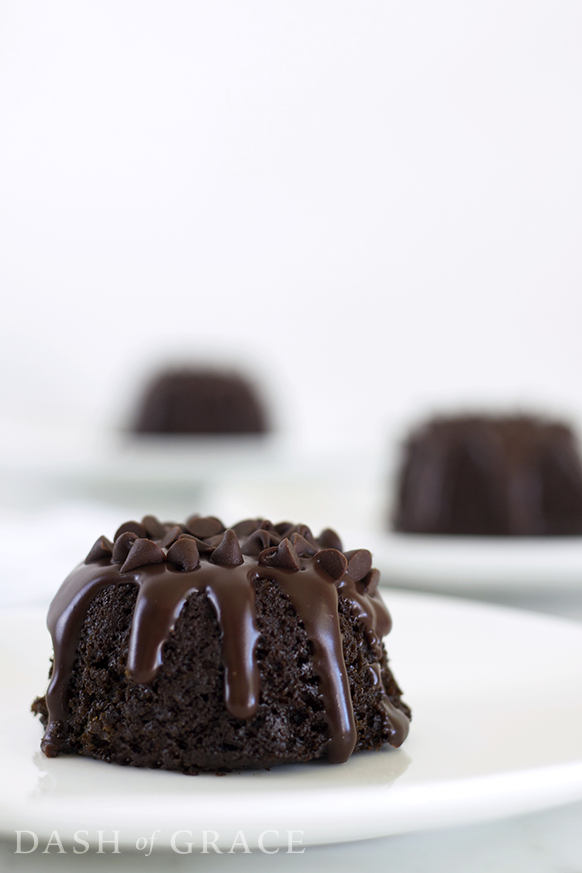 Triple Chocolate Bundt Cakes
Decadent, moist, mini chocolate cakes drizzled with rich, creamy chocolate ganache, and sprinkled with miniature chocolate morsels.
* Yields: 30 miniature cakes (12-cup mini bundt pan)
2 1/4 cups (225 g) cake flour
3/4 cup plus 1 tbsp unsweetened natural cocoa powder (not Dutch processed) plus extra for dusting pan
1 1/2 teaspoons baking powder
1 1/4 teaspoons baking soda
3/4 teaspoon kosher salt
2 large eggs + 1 large egg yolk, at room temperature
1/2 cup buttermilk, at room temperature
3 tablespoons sour cream, at room temperature
1/2 cup (110 g) canola oil
1 tablespoon vanilla extract
1 cup (200 g) granulated sugar
3/4 cups plus 2 tablespoons (195 g) firmly packed dark brown sugar
1 cup (177 g) hot coffee, brewed
1 cup heavy cream
2 teaspoons vanilla extract
8 ounces baking chocolate, broken into pieces
2 teaspoons corn syrup
Mini chocolate chips for topping
Directions
1. Preheat over to 325 degrees F.
2. Spray mini (12 cup) bundt pan and dust with cocoa powder
3. In a large bowl, sift together flour, cocoa, baking powder, baking soda and salt. Set aside.
4. Next whisk together sour cream and milk in a small bowl to help break up the sour cream.
5. In the bowl of a stand mixer fitted with the paddle attachment, beat together the sour cream mixture, oil, and sugars on medium speed until smooth. Add the eggs, one at a time, mixing well after each addition. Add vanilla extract along with the final egg yolk. Next, add in flour mixture. Blend at low just until combined. Increase speed to medium. Beat for 2 minutes until well blended. Remove bowl from stand mixer and add hot coffee. Stir lightly with a wooden spoon until texture is uniform. Let the batter rest for 15 minutes (should be completely cool) and stir again gently before using.
6. Divide the batter among prepared cups, filling each approximately two-thirds of the way full. Bake until the cupcakes are puffed and a toothpick inserted into the center comes out clean, about 16 to 20 minutes. Cool in pan for 20-30 minutes before transferring to a wire rack to cool completely.
7. In a medium bowl, combine chocolate pieces and corn syrup. Set aside.
8. In a saucepan, heat cream and vanilla over medium heat until hot and bubbles being forming around edge of pan.
9. Pour vanilla cream over chocolate, whisking until smooth. If needed, let glaze cool to thicken it up a bit.
10. Generously drizzle ganache over cooled cakes. Allow glaze to set for 1-2 minutes before sprinkling on mini chocolate chips. Allow glaze to harden completely.